The prevalence of Vitamin D deficiency in pregnancy and neonatal outcomes
Dr. Susheela Gayam

Head of Department, Department of Obstetrics and Gynaecology Vijay Marie Hospital and Educational Society, Khairatabad, Hyderabad, Telangana, India

Dr. Summaya Fatima

Registrar, Department of Obstetrics and Gynaecology Vijay Marie Hospital and Educational Society, Khairatabad, Hyderabad, Telangana, India

Dr. Neelima C

Senior Consultant, Department of Obstetrics and Gynaecology Vijay Marie Hospital and Educational Society, Khairatabad, Hyderabad, Telangana, India

Dr. Geeta Rani

Junior Consultant, Department of Obstetrics and Gynaecology Vijay Marie Hospital and Educational Society, Khairatabad, Hyderabad, Telangana, India
Keywords:
Vitamin D deficiency, Prevalence, Pregnancy, Maternal outcomes, Neonatal outcomes
Abstract
Introduction: Vitamin D is an essential fat-soluble vitamin and has multiple functions. It affects calcium metabolism, modulates the immune system, cell proliferation, and differentiation.
Objective: To study the prevalence of vitamin D deficiency in pregnant women and neonatal outcome in a tertiary care hospital, to study the association between maternal vitamin D and medical disorders, and to correlate maternal vitamin D deficiency with neonatal vitamin D levels and neonatal outcomes.
Materials and Methods: This cross-sectional and observational study was conducted over a period of one year on 355 antenatal women admitted for safe confinement. 4 ML of whole blood was collected from median ante-cubital fossa and vitamin D levels were assessed using ELFA [Enzyme Linked Fluorescent Assay] following delivery, and 2ml of cord blood was also collected and sent for Vitamin D levels. R
esults: Out of the total study population, 12.96% (46) had adequate levels of vitamin D, the majority - 74.65% (265) had insufficient vitamin D levels, and 12.39% (44) had severe vitamin D deficiency. The overall deficiency among neonates was 95.22%. No significant association was found between vitamin D deficiency and maternal complications, except for the mode of delivery which was statistically significant with a P-value of 0.04.
Conclusion: This study reaffirms that vitamin D deficiency is on the increase and therefore needs intervention by biochemical screening and corrective measures during pregnancy.
Downloads
Download data is not yet available.
References
Garland CF, Garland FC, Gorham ED, Lipkin M, Newmark H, Mohr SB, et al. The role of vitamin D in cancer prevention. Am J Public Health. 2006;96(2):252-261. doi: 10.2105/AJPH.2004.045260.
Gorham ED, Garland CF, Garland FC, Grant WB, Mohr SB, Lipkin M, et al. Optimal vitamin D status for colorectal cancer prevention: a quantitative meta analysis. Am J Prev Med. 2007;32(3):210-216. doi: 10.1016/j.amepre.2006.11.004.
Dobnig H, Pilz S, Scharnagl H, Renner W, Seelhorst U, Wellnitz B, et al. Independent association of low serum 25- hydroxyvitamin D and 1, 25-dihydroxyvitamin D levels with all-cause and cardiovascular mortality. Arch Int Med. 2008;168(12):1340-1349. doi: 10.1001/archinte.168.12.1340.
Kumar GT, Chugh R, Eggersdorfer M. Poor vitamin D status in healthy populations in India: a review of current evidence. Int J Vitam Nutr Res. 2015;85(3-4):185-201. doi: 10.1024/0300-9831/a000228.
Goswami R, Gupta N, Goswami D, Marwaha RK, Tandon N, Kochupillai N. Prevalence and significance of low 25-hydroxyvitamin D concentrations in healthy subjects in Delhi. Am J Clin Nutr. 2000;72(2):472-475. doi: 10.1093/ajcn/72.2.472.
Holick MF, Chen TC. Vitamin D deficiency: a worldwide problem with health consequences. Am J Clin Nutr. 2008;87(4):1080S-1086S. doi: 10.1093/ajcn/87.4.1080S.
Bodnar LM, Krohn MA, Simhan HN. Maternal vitamin D deficiency is associated with bacterial vaginosis in the first trimester of pregnancy. J Nutr. 2009;139(6):1157-1161. doi: 10.3945/jn.108.103168.
Sachan A, Gupta R, Das V, Agarwal A, Awasthi PK, Bhatia V. High prevalence of vitamin D deficiency among pregnant women and their newborns in northern India. Am J Clin Nutr. 2005;81(5):1060-1064. doi: 10.1093/ajcn/81.5.1060.
GannagéYared MH, Chemali R, Yaacoub N, Halaby G. Hypovitaminosis D in a sunny country: relation to lifestyle and bone markers. J Bone Min Res. 2000;15(9):1856-1862. doi: 10.1359/jbmr.2000.15.9.1856.
LarquéE, Morales E, Leis R, Blanco-Carnero JE. Maternal and Foetal Health Implications of Vitamin D Status during Pregnancy – A Review article. Ann Nutr Metab. 2018;72(3):179-192. doi: 10.1159/000487370.
Liu NQ, Hewison M. Vitamin D, the placenta and pregnancy. Arch Biochem Biophys. 2012;523(1):37–47. doi: 10.1016/j.abb.2011.11.018.
Ravinder SS, Deepika C, Padmavathi R, Balakrishnan K, Vijayaraghavan J. Occurrence of Vitamin D deficiency in pregnant women in South India-A preliminary study. Int J Pure App Biosci. 2015;3(2):291-296.
Gupta S, Jain K, Kaur J. Vitamin D deficiency in pregnancy and its effects on neonatal outcome. Int J Reprod Contracept Obstet Gynecol. 2018;7(11):4481-4484. doi: 10.18203/2320-1770.ijrcog20184493.
Prasad D, Smita, Kalpana SS, Nisha S. Vitamin D in pregnancy and its correlation with feto maternal outcome. Int J Contemp Med Res. 2018;5 (1):1-5.
Nageshu S, Krishna K, Krishna L, Bhat BS, Suma HR, Reddy S. A study of prevalence of Vitamin D deficiency among pregnant women and its impact on feto maternal outcome. Int J Reprod Contracep Obstet Gynaecol. 2016;5(4):1174-1180. doi: 10.18203/2320-1770.ijrcog20160880.
ShantiSneha G, Hima Bindu V. A study on prevalence of vitamin D deficiency in software pregnant women and the feto maternal outcome. Int J Adv Res.2017;5(5):510-515. doi: 10.21474/IJAR01/4138.
Wang Y, Li H, Zheng M, Wu Y, Zeng T, FuJ, et al. Maternal vitamin D deficiencyincreases the risk of adverse neonatal outcomes inthe Chinese population: A prospective cohort study. PLoS ONE. 2018;13(4): e0195700. doi: 10.1371/journal.pone.0195700
Sharma N, Nath C, Mohammad J. Vitamin D status in pregnant women visiting a tertiary care center of North Eastern India. J Family Med Prim Care. 2019;8(2):356-360. doi: 10.4103/jfmpc.jfmpc_404_18.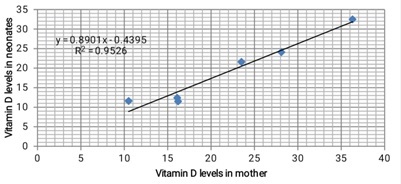 CITATION
DOI: 10.17511/joog.2020.i04.03
How to Cite
Dr. Susheela Gayam, Dr. Summaya Fatima, Dr. Neelima C, & Dr. Geeta Rani. (2020). The prevalence of Vitamin D deficiency in pregnancy and neonatal outcomes. Obs Gyne Review: Journal of Obstetric and Gynecology, 6(4), 85-90. https://doi.org/10.17511/joog.2020.i04.03
Copyright (c) 2020 Author (s). Published by Siddharth Health Research and Social Welfare Society
This work is licensed under a Creative Commons Attribution 4.0 International License.