Study of Abdominal Shirodkar sling operation for uterocervical prolapse
Dr. Uday M, Patel

Associate Professor, Department of Obstetrics and Gynaecology, GMERS Medical College, Dharpur, India

Dr. Manoranjana B. Shah

2Retired Professor, Department of Obstetrics and Gynecology, B J Medical College, Ahmedabad, Gujarat, India Patan, Gujarat, India

Dr. Jui R. Shah

MBBS, B J Medical College, Ahmedabad, Gujarat, India
Keywords:
Prolapse, Uterocervical descent, Conservative surgery, Abdominal Shirodkar Sling operation
Abstract
Aim: To study the procedures of abdominal Shirodkar sling itself and its results.
Material and Methods: Abdominal Shirodkers sling operation for conservative surgery for uterocervical descent is performed in thirty-three women of civil hospital Ahmedabad. The procedure is difficult and bold but is the perfect anatomical solution to strengthen weak uterosacral ligaments with the help of a mercelene tap.
Results: Long term follow up also showed good results. This helps in treating infertility due to prolapse. Moreover, vaginal delivery is possible following this conservative surgery. Cystocele is also corrected by pulling the uterus in its position with a newly created uterosacral ligament with a mercelene tap.
Conclusion: Abdominal sling with Dr. Shirodkar's method is the real corrective solution to weekend uterosacral ligaments. It is the perfect anatomical solution for conservatives' approach to uterocervical descent. Of course, Procedure is difficult and requires boldness.
Downloads
Download data is not yet available.
References
Virkud A. Conservative Operations in Genital Prolapse. J Obstet Gynaecol India. 2016;66(3):144-148. doi: 10.1007/s13224-016-0909-8.
Purandare VN. New surgical technique for surgical correction of genital prolapse in young women. J Obstet Gynaecol India. 1965:53-62.
Dietz V, Schraffordt Koops SE, van der Vaart CH. Vaginal surgery for uterine descent; which options do we have? A review of the literature. Int Urogynecol J Pelvic Floor Dysfunct. 2009;20(3):349-356. doi: 10.1007/s00192-008-0779-4.
Fothergill WE. Anterior colporrhaphy and its combination with amputation of the cervix as a Single Operation. BJOG. 1915;27(3-5):146-147. doi: 10.1111/j.1471-0528.1915.tb05951.x.
Dastur B, Gurubaxani G, Palnitkar SS. Shirodkar sling operation in the treatment of genital prolapse. BJOG. 1967;74(1):125-128. doi: 10.1111/j.1471-0528.1967.tb03947.x.
Nichols DH. Fertility Retention in Patients with Genital Prolapse. Am J Obstet Gynecol. 164;5(1):1155-1158.
Desai P, Preeti P. Surgical Conservation in Prolapse. Indian J Obstet Gynecol. 1990;528-532.
Chakrabortti DK. Pregnancy Following Repair Operation for Genital Prolapse. Indian J Obstet Gynecol. 1985;282-285.
Allahbadia G, Ambiye V, Vaidya P. Pelvic Relaxation in Child -Bearing Age Group. Indian J Obstet Gynecol. 1992;42(2):245-250.
Naik K, Ahuja M, Kaduskar N, Gaikwad S. Are the trends in genital prolapse changing. Indian J Obstetr Gynecol. 1993.43;426-430.
Sitaram L, Shah SH, Sequeira EJ. Shirodkar's Modified Manchester Operation. J Obstet Gynecol. 1967;296-301.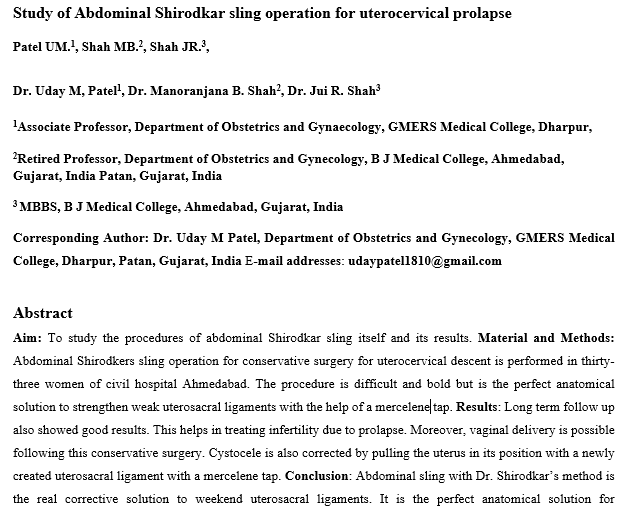 CITATION
DOI: 10.17511/joog.2020.i06.03
How to Cite
Dr. Uday M, Patel, Dr. Manoranjana B. Shah, & Dr. Jui R. Shah. (2020). Study of Abdominal Shirodkar sling operation for uterocervical prolapse. Obs Gyne Review: Journal of Obstetric and Gynecology, 6(6), 120-124. https://doi.org/10.17511/joog.2020.i06.03
Copyright (c) 2021 Author (s). Published by Siddharth Health Research and Social Welfare Society
This work is licensed under a Creative Commons Attribution 4.0 International License.