Predictors of intrauterine growth restriction
Dr. Rabindran Chandran

Consultant Neonatologist, Billroth Hospital, Chennai, India

Dr D Sharad Gedam

Professor, Department of Pediatrics, L N Medical College, Bhopal, MP, India
Keywords:
IUGR, Biomarkers, Biometry
Abstract
IUGR is pathologic inhibition of intrauterine fetal growth. Risk factors for IUGR comprise maternal factors, fetal factors, adnexal factors & Placental or umbilical cord factors. For predicting IUGR a combined approach using clinical data, serum markers, biophysical parameters has higher predictive value.
Downloads
Download data is not yet available.
References
1. Nahar S, Mascie-Taylor CG, Begum HA: Maternal anthropometry as a predictor of birth weight. Public Health Nutr. 2007 Sep;10(9):965-70.DOI. 10.1017/S1368980007217975.

2. Gagnon A, Wilson RD, Audibert F, Allen VM, Blight C, Brock JA, Désilets VA, Johnson JA, Langlois S, Summers A, Wyatt P. Obstetrical complications associated with abnormal maternal serum markers analytes J Obstet Gynaecol Can. 2008 Oct;30(10):918-49.

3. Poon LC, Syngelaki A, Akolekar R, Lai J, Nicolaides KH. Combined screening for preeclampsia and small for gestational age at 11-13 weeks. Fetal Diagn Ther. 2013;33(1):16-27. doi: 10.1159/000341712.

4.Vingt LAM. Lodeiro JG, Feins SJ. Value of fetal ponderal index in predicting growth retardation. Obstet Gynecol 1986; 67:584-8.

5. Jeltsje S. Cnossen, Rachel K. Morris, Gerben ter Riet,et al., Use of uterine artery Doppler ultrasonography to predict pre-eclampsia and intrauterine growth restriction: a systematic review and bivariable meta-analysis. CMAJ. 2008 Mar 11; 178(6): 701–711. doi: 10.1503/cmaj.070430

6. Yoshida S, Unno N, Kagawa H, Shinozuka N, Kozuma S, Taketani Y.Prenatal detection of a high-risk group for intrauterine growth restriction based on sonographic fetal biometry. Int J Gynaecol Obstet. 2000 Mar;68(3):225-32.

7. Banks EH, Miller DA. Perinatal risks associated with borderline amniotic fluid index. Am J Obstet Gynecol. 1999 Jun;180(6 Pt 1):1461-3.

8. Manning FA, Hill LM, Platt LD. Qualitative amniotic fluid volume determination by ultrasound: antepartum detection of intrauterine growth retardation. Am J Obstet Gynecol. 1981 Feb 1;139(3):254-8.

9. Hill LM, Guzick D, Thomas ML, et al. Thigh circumference in the detection of intrauterine growth retardation. Am J Perinatol 1989; 6:349.

10.Wang Zehua, Xiong Guirong, Zhu Ying. The predictive value of plasma fibronectin concentration on fetal growth retardation at earlier stage of the third trimester. Journal of Tongji Medical University; September 2001, Volume 21, Issue 3, pp 253-255.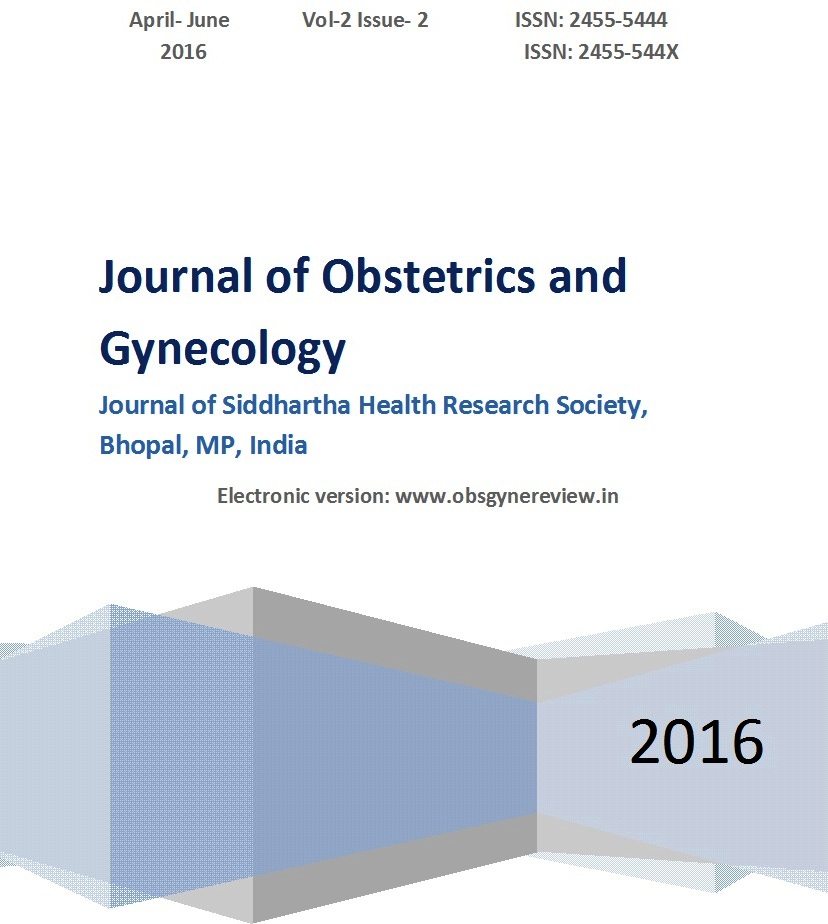 CITATION
DOI: 10.17511/joog.2016.i02.01
How to Cite
Chandran, R., & Gedam, D. S. (2016). Predictors of intrauterine growth restriction. Obs Gyne Review: Journal of Obstetric and Gynecology, 2(2), 1-2. https://doi.org/10.17511/joog.2016.i02.01
Copyright (c) 2016 Author (s). Published by Siddharth Health Research and Social Welfare Society
This work is licensed under a Creative Commons Attribution 4.0 International License.