Preoperative dexamethasone and intraperitoneal bupivacaine for postoperative pain relief
Dr. Susheela Gayam

Head of Department, Department of Obstetrics and Gynaecology Vijay Marie Hospital and Educational Society, Khairatabad, Hyderabad, Telangana, India

https://orcid.org/

Dr. Naduvinakeri K.

Registrar, Department of Obstetrics and Gynaecology Vijay Marie Hospital and Educational Society, Khairatabad, Hyderabad, Telangana, India

Dr. Meera Rajagopal

Senior Consultant, Department of Obstetrics and Gynaecology Vijay Marie Hospital and Educational Society, Khairatabad, Hyderabad, Telangana, India

Dr. Neelima C.

Senior Consultant, Department of Obstetrics and Gynaecology Vijay Marie Hospital and Educational Society, Khairatabad, Hyderabad, Telangana, India
Keywords:
Preoperative Dexamethasone, Intraperitoneal Bupivacaine, Post-Operative pain relief
Abstract
Introduction: Remarkable advancement in managing post-operative pain is made using various analgesics. Dexamethasone is a potent anti-inflammatory, analgesic, and anti-emetic agent and readily available, easy to administer, and a safe adjunct for postoperative analgesia. The intraperitoneal use of local anesthetics is known to improve postoperative pain. The present study is aimed to assess the effectiveness of preoperative dexamethasone combined with intra-peritoneal bupivacaine for postoperative pain relief.
Objective: To assess the effectiveness of preoperative Dexamethasone combined with intra-peritoneal Bupivacaine for postoperative pain relief following surgery.
Material and Methods: A prospective, randomized controlled study was done over a period of one year on 172 women scheduled for elective gynecological surgeries. The study group received Dexamethasone 8mg IV, 5 minutes prior to induction of anesthesia or before surgical incision, and intra-operatively 30ml of 0.25% Bupivacaine intraperitoneally under aseptic precautions. The control group received standard anesthesia as per the routine hospital protocol. Postoperatively patients monitored for vitals, pain assessment using Visual Analogue Score. The severity of postoperative nausea and vomiting (PONV) was evaluated. After a 24-hour assessment period, patients were asked to make an overall rating of satisfaction with post-operative pain relief on a verbal response (VReS).
Results: It was noted that the mean consumption of analgesic doses was significantly high in group B compared to group A (3.01±0.52 vs 1.46±0.83; p<0.001).The mean VRes scores in group A were significantly high compared to group B (2.95±1.01 vs 0.20±0.51; p<0.001).
Conclusion: Dexamethasone combined with intra-peritoneal Bupivacaine is highly effective in reducing postoperative pain along with PONV.
Downloads
Download data is not yet available.
References
Merskey H, AlbeFessard D, Bonica JJ, Carmon A, Dubner R, Kerr FWL, et al. Pain terms: a list with definitions and notes on usage. Recommended by the IASP subcommittee on taxonomy. PAIN. 1979;6(3):249-252.
Ismail S, Siddiqui AS, Rehman A. Postoperative pain management practices and their effectiveness after major gynecological surgery: An observational study in a tertiary care hospital. J Anaesthesiol Clin Pharmacol. 2018;34(4):478-484. doi: 10.4103/joacp.JOACP_387_17.
Breivik H. Postoperative pain management: why is it difficult to show that it improves outcome. Eur J Anaesthesiol. 1998;15(6):748-751. doi: 10.1097/00003643-199811000-00022.
Hudspith MJ. Anatomy, physiology and pharmacology of pain. Anaesthes Intens Care Med. 2019;20(8):419-425. doi: 10.1016/j.mpaic.2016.06.003.
Bisgaard T, Klarskov B, Kehlet H, Rosenburg J Pre-operative dexamethasone improves surgical outcome after laproscopic cholecystectomy: a randomized, double-blind placebo-controlled trial. Ann Surgery. 2003;238(5):651-660. doi: 10.1097/01.sla.0000094390.82352.cb.
Fan ZR, Ma J, Ma XL, Wang Y, Sun L, Wang Y, et al. The efficacy of dexamethasone on pain and recovery after total hip arthroplasty: A systematic review and meta-analysis of randomized controlled trials. Med. (Baltimore) 2018;97(13):e0100. doi: 10.1097/MD.0000000000010100.
Kumar S, Palaria U, Sinha AK, Punera DC, Pandey V. Comparative evaluation of ropivacaine and ropivacaine with dexamethasone in supraclavicular brachial plexus block for postoperative analgesia. Anesth Essays Res. 2014;8(2):202-208. doi: 10.4103/0259-1162.134506.
Worner J, Rukwied R, Konrad C: [Co-analgesics today and tomorrow a receptor-based overview of therapeutical options]. Anasthesiologie, Intensivmedizin, Notfallmedizin, Schmerztherapie : AINS. 2009;44(11):736-744. doi: 10.1055/s-0029-1242128.
Golwala MP, Swadia VN, Dhimar AA, Sridhar NV. Pain relief by dexamethasone as an adjuvant to local anaesthetics in supraclavicular brachial plexus block. J Anaesth Clin Pharmacol 2009;25(3):285-288.
Goldstein A, Grimault P, Henique A, Keller M, Fortin A, Darai E. Preventing postoperative pain by local anesthetic instillation after laparoscopic gynecologic surgery: a placebo-controlled comparison of bupivacaine and ropivacaine. Anesth Analg. 2000;91(2):403-407. doi: 10.1097/00000539-200008000-00032.
Asgari Z, Mozafar-Jalali S, Faridi-Tazehkand N, Sabet S. Intraperitoneal dexamethasone as a new method for relieving postoperative shoulder pain after gynecologic laparoscopy. Int J Fertil Steril. 2012;6(1):59-64.
Rivard C, Vogel RI, Teoh D. Effect of Intraperitoneal Bupivacaine on Postoperative Pain in the Gynecologic Oncology Patient. J Minim Invasive Gynecol. 2015;22(7):1260-1265. doi: 10.1016/j.jmig.2015.07.013.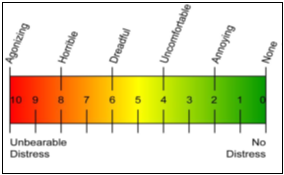 CITATION
DOI: 10.17511/joog.2020.i04.05
How to Cite
Dr. Susheela Gayam, Dr. Naduvinakeri K., Dr. Meera Rajagopal, & Dr. Neelima C. (2020). Preoperative dexamethasone and intraperitoneal bupivacaine for postoperative pain relief. Obs Gyne Review: Journal of Obstetric and Gynecology, 6(4), 96-101. https://doi.org/10.17511/joog.2020.i04.05
Copyright (c) 2020 Author (s). Published by Siddharth Health Research and Social Welfare Society
This work is licensed under a Creative Commons Attribution 4.0 International License.