A Case Report STRUMA OVARII
A Case Report
susheela gayam

Vijay Marie Hospital & Edu. Society
Keywords:
Monodermal teratoma, struma ovarii, suspected ovarian malignancy, thyroid follicles
Abstract
Struma Ovarii is an uncommon variant of ovarian monodermal mature cystic teratoma consisting of thyroid tissue. Preoperative diagnosis of it is difficult as the clinical presentation and ultrasound imaging are often similar to that of ovarian neoplasm. These patients, with mostly beingn disease, often have more extensive surgery than necessary. We present a case report of a 60 years old patient with preoperative diagnosis of ovarian neoplasm post operatively diagnosed as struma ovarii on histopathology which is confirmatory. The aim of this case report is to highlight the importance of associating preoperatively clinical findings and investigations to avoid extensive surgery. When suspected it is crucial to evaluate thyroid status to avoid complications of hyperthyroidism.
Downloads
Download data is not yet available.
References
1. Yoo SC, Chang KH, Lyu MO, Chang SJ, Ryu HS, Kim HS. Clinical characteristics of struma ovarii. J Gynecol Oncol. 2008 Jun;19(2):135-8. doi: 10.3802/jgo.2008.19.2.135. Epub 2008 Jun 20. PMID: 19471561; PMCID: PMC2676458.
2. Kim SJ, Pak K, Lim HJ, Yun KH, Seong SJ, Kim TJ, et al. Clinical diversity of struma ovarii. Korean J Obstet Gynecol. 2002; 45:748–752.
3. DeSimone CP, Lele SM, Modesitt SC. Malignant struma ovarii: a case report and analysis of cases reported in the literature with focus on survival and I131 therapy. Gynecol Oncol. 2003 Jun;89(3):543-8. doi: 10.1016/s0090-8258(03)00141-0. PMID: 12798728.
4. Rosenblum NG, LiVolsi VA, Edmonds PR, Mikuta JJ. Malignant struma ovarii. Gynecol Oncol. 1989 Feb;32(2):224-7. doi: 10.1016/s0090-8258(89)80037-x. PMID: 2910784.
5. Singh P, Lath N, Shekhar S, Goyal M, Gothwal M, Yadav G, Khera P. Struma Ovarii: A Report of Three Cases and Literature Review. J Midlife Health. 2018 Oct-Dec;9(4):225-229. doi: 10.4103/jmh.JMH_53_18. PMID: 30692823; PMCID: PMC6332726.
6. Savelli L, Testa AC, Timmerman D, Paladini D, Ljungberg O, Valentin L. Imaging of gynecological disease (4): clinical and ultrasound characteristics of struma ovarii. Ultrasound Obstet Gynecol. 2008 Aug;32(2):210-9. doi: 10.1002/uog.5396. PMID: 18636616.
7. Roth LM, Talerman A. The enigma of struma ovarii. Pathology. 2007 Feb;39(1):139-46. doi: 10.1080/00313020601123979. PMID: 17365830.
8. Ayhan A, Yanik F, Tuncer R, Tuncer ZS, Ruacan S. Struma ovarii. Int J Gynaecol Obstet. 1993 Aug;42(2):143-6. doi: 10.1016/0020-7292(93)90628-a. PMID: 7901063.
9. Sinha NK. Struma ovarii with elevated ca-125 levels and ascites mimicking advanced ca ovary. J Clin Diagn Res. 2014 Mar;8(3):140-1. doi:10.7860/JCDR/2014/8005.4138. Epub 2014 Mar 15. PMID: 24783110; PMCID: PMC4003614.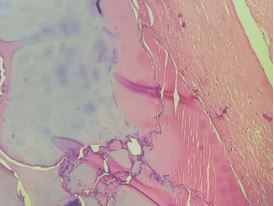 How to Cite
gayam, susheela. (2023). A Case Report STRUMA OVARII. Obs Gyne Review: Journal of Obstetric and Gynecology, 9(1), 1-4. Retrieved from http://obstetrics.medresearch.in/index.php/joog/article/view/159
Copyright (c) 2023 Author (s). Published by Siddharth Health Research and Social Welfare Society
This work is licensed under a Creative Commons Attribution 4.0 International License.