A rare case of prolapse of ovarian cyst through vaginal vault
Dr. K Gangadhara Rao

Professor, Gynaecology, NRI Medical College and General Hospital, Chinakakani, Guntur District, Andhra Pradesh

Dr. G Srinivasa Rao

Professor, Urology, NRI Medical College and General Hospital, Chinakakani, Guntur District, Andhra Pradesh, India

Dr. K Lakshminarayana

Professor, Family Medicine, NRI Medical College and General Hospital, Chinakakani, Guntur District, Andhra Pradesh, India

Dr. K Prabha Devi

Professor, Department of Gynaecology, NRI Medical College and General Hospital, Chinakakani, Guntur District, Andhra Pradesh, India
Keywords:
Ovarian cyst - Prolapse, Vault, Post Hysterectomy
Abstract
Hysterectomy is the most common gynecological major surgery. It is performed for both benign and malignant conditions of the female genital tract. Common indications of hysterectomy include abnormal uterine bleeding (fibroids, adenomyosis), pelvic inflammatory disease. It can be performed via abdominal or vaginal routes depending on the pathology. In this era of minimally invasive surgery, laparoscopic hysterectomy is gaining popularity. Complications of this surgery depend on the etiology, route of hysterectomy and the technique used. Common complications of this procedure include infections, hemorrhage, thromboembolism, urinary tract, gastrointestinal injury. Vault prolapse can also occur years after performing a hysterectomy. Prolapse of fallopian tubes and omentum through the vault have been reported. However, prolapse of other abdominal and pelvic organs like bowel, ovary, and bladder through the vaginal vault is a rare entity. Prolapse of the ovarian cyst through vaginal vault has so far not been reported in the world literature. The present case report was of a very rare case of ovarian cyst prolapse through the vaginal vault in a 35-year-old woman; which was successfully treated by laparotomy and ovarian cystectomy. Her post-operative histopathology was suggestive of mucinous cystadenoma. Her post-operative period was uneventful, and she was discharged in a stable condition.
Downloads
Download data is not yet available.
References
Merrill RM. Hysterectomy surveillance in the United States-1997 through 2005. Med Sci Monit. 2008;14(1): CR24–CR31.
Rauter B. Rupture of the vaginal vault with prolapse of the small intestine (Article in German). Wien Klin Wochenschr.1984;96(12):473-474.
Kirwan JM, Farquharson RG, McDicken I. Prolapsed ovarian cyst through cervical stump, A rare complication of a subtotal Hysterectomy. J Obstet Gynaecol.1998;18(5):494-495. doi: https://doi.org/10.1080/01443619866921.
Vizza E, Galati GM, Corrado G, Atlante M, Infante C, Sbiroli C. Voluminous mucinous cystadenoma of the ovary in a 13-year-old girl. J Ped Adoles Gynecol. 2005;18(6):419-422. doi: https://doi.org/10.1016/j.jpag.2005.09.009.
Mittal S, Gupta N, Sharma A, Dadhwal V. Laparoscopic management of a large recurrent benign mucinous cystadenoma of the ovary. Arch Gynecol Obstet. 2008;277(4):379-380. doi: https://doi.org/10.1007/s00404-007-0556-5.
Crum CP, Lester SC, Cotran RS. Pathology of female genital system and breast.In: Kumar V, Abbas A, Fausto N, Mitchell R, editors. Robbins' Basic pathology. 8th ed. USA: Saunders/Elsevier; 2007. P 8.
Ioffe OB, Simsir A, Silverberg SG. Pathology. In: Berek JS, Hacker NF, editors. Practical Gynaecologic Oncology. 5th ed. USA: Lippincott Williams and Wilkins; 2000. P 213-214.
Ozgun MT, Turkyilmaz C: A giant ovarian mucinous cystadenoma in an adolescent: a case report. Arch Med Sci. 2009;5(2):281-283.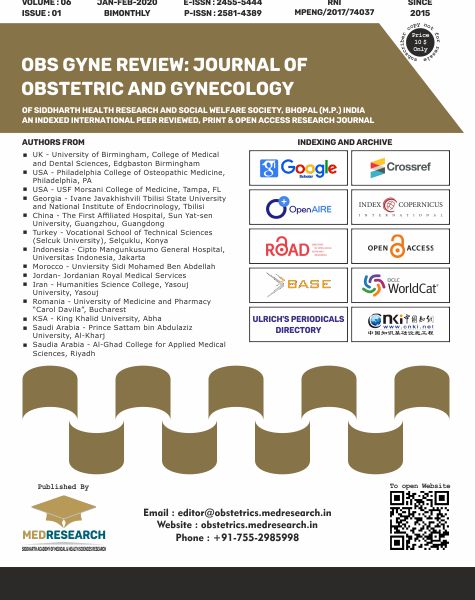 CITATION
DOI: 10.17511/joog.2020.i01.05
How to Cite
Rao, D. K. G., Rao, G. S., K, L., & Devi, K. P. (2020). A rare case of prolapse of ovarian cyst through vaginal vault. Obs Gyne Review: Journal of Obstetric and Gynecology, 6(1), 28-31. https://doi.org/10.17511/joog.2020.i01.05
Copyright (c) 2020 Author (s). Published by Siddharth Health Research and Social Welfare Society
This work is licensed under a Creative Commons Attribution 4.0 International License.