The validity of single step test (DIPSI) for screening for GDM in all trimesters of pregnancy
Susheela Gayam

DGO, HOD, Department of Obstetrics and Gynaecology Vijay Marie Hospital Educational Society, Khairatabad, Hyderabad, Telangana, India

Dr Paaka Madhurima

DGO, Department of Obstetrics and Gynaecology Vijay Marie Hospital Educational Society, Khairatabad, Hyderabad, Telangana, India

Dr Sashikala Paul

Department of Obstetrics and Gynaecology Vijay Marie Hospital Educational Society, Khairatabad, Hyderabad, Telangana, India

Dr Mythili Tallavajhula

Department of Obstetrics and Gynaecology Vijay Marie Hospital Educational Society, Khairatabad, Hyderabad, Telangana, India
Keywords:
Gestational Diabetes Mellitus, DIPSI - (Diabetes in pregnancy study group in India), Oral glucose tolerance test
Abstract
Purpose: To evaluate the validity of DIPSI, (Diabetes and Pregnancy Study Group India) a single step test, as a screening tool for GDM and to find out the incidence and onset of GDM with respect to period of gestation.
Materials and Methods: One year prospective study was conducted on 300 antenatal women in all three trimesters with DIPSI – Single step test. DIPSI positive patients underwent diagnostic OGTT, by 75 gm glucose. Patients were diagnosed as GDM by WHO Criteria (1999).
Results: DIPSI had sensitivity of 100%, specificity of 94.6%. Of the 300 patients subjected to the study, overall incidence of GDM was 25.3% and 0.7% were diagnosed with overt diabetes. During the first trimester 4% had GDM whereas 0.7% had overt diabetes. During the second and third trimester 12.5% and 15.3 % of patients were newly diagnosed with GDM respectively.
Conclusion: This evidence not only validates DIPSI as simple and efficient screening test but also emphasizes the importance of subjecting all the pregnant women in all 3 trimesters to test for screening for GDM. And therefore this test should become part of the routine antenatal investigations.
Downloads
Download data is not yet available.
References
1. Seshiah V, BalaijV, Madhuri S Balaji, Panneerselvam A, Kapur A. Pregnancy and Diabetes Scenario around the World: India. Int J Gynaecol Obstet. 2009 Mar; 104 suppl 1: S35-8. doi: 10.1016/j.ligo.2008.11.035.

2. Seshiah V, Balaji V, Balaji MS, Panneerselvam A, Arthi T, Thamizharasi M et al. Prevalence of GDM in South India (Tamil Nadu)-a Community based study. J Assoc Physicians India. 2008 May; 56: 329-33. [PubMed]

3. Zargar AH, Sheikh MI, Bashir MI, Masoodi SR, Laway BA, Wani AI et al. Prevalence of gestational diabetes mellitus in Kashmiri women from the Indian subcontinent. Diabetes Res Clin Pract. 2004 Nov; 66(2):139-45.

4. Sheshiah V, Balaji V, Balaji MS et al. One step for Screening and diagnosis of GDM. J. Obstet Gynecol. India 2005; 55(6) 525-29.

5. Sheshiah V, Das Ak, Balaji V et al. Gestational diabetes mellitus -Guidelines. J Assoc Physicians India. 2006 Aug; 54(8):622-8.

6. Ferrara A, Hedderson MM, Queensberry CP, Selby J. Prevalence of GDM detected by NDDG or the C & C plasma glucose thresholds. Diabetes care 2002 Sep; 25(9): 1625-30. PMID:12196438. [PubMed]

7. Anjalakshi, Balaji, Madhuri et al. A Single procedure to diagnose gestational diabetes mellitus. Acta Diabetol (2009) 46(1): 51-4. doi: 10.1007/s00592-008-0060-9. Epub 2008 Oct 2.

8. Lao TT, HoLF, Chan BC, Leung WC. Maternal age and prevalence of Gestational diabetes mellitus. Diabetes Care. 2006 Apr; 29(4):948-9 . http://dx.doi.org/10.2337/diacare.29.04.06.dc05-2568.

9. Bhattacharya S, Campbell DM, Liston WA, Bhattacharya S. Effect of Body Mass Index on pregnancy outcomes in nulliparous women delivering singleton babies. BMC Public Health. 2007; 7: 168. doi: 10.1186/1471-2458-7-168.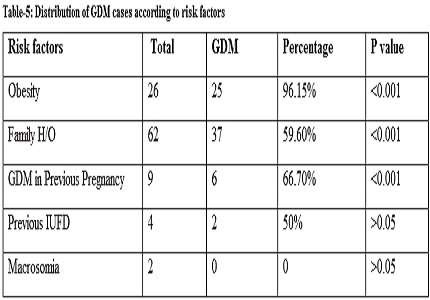 CITATION
DOI: 10.17511/joog.2015.i02.02
How to Cite
Gayam, S., Madhurima, P., Paul, S., & Tallavajhula, M. (2015). The validity of single step test (DIPSI) for screening for GDM in all trimesters of pregnancy. Obs Gyne Review: Journal of Obstetric and Gynecology, 1(2), 34-38. https://doi.org/10.17511/joog.2015.i02.02
Copyright (c) 2015 Author (s). Published by Siddharth Health Research and Social Welfare Society
This work is licensed under a Creative Commons Attribution 4.0 International License.