Phyllodes tumor in pregnancy: A Case Report
Dr. Pooja Patil

Professor, AIIMS, Bhopal, India

Dr. Tanya Rajpal

Resident, Department of Obstetrics and Gynecology, L.N.M.C. & JKHMRC, Bhopal, India

Dr. Bharati Pandya

Additional Professor, AIIMS, Bhopal, India

Dr. Swagata Brahmachari

Associate Professor, Department of Surgery, AIIMS, Bhopal, India
Keywords:
Phyllodes tumor, Pregnancy, breast tumour
Abstract
Phyllodes tumor accounts for less than 1% of all breast neoplasms. These tumors are fast growing masses arising from the periductal stromal cells of the breast. We report a case of phyllodes in a 25 year old primigravida who presented to us at 18 weeks of pregnancy with mass of right breast which appeared 15 days back. She gave history of some mass in right breast for which she was operated 1 year back for which no details or papers were available. On examination there was a tumor in Right breast of about 20x15x11 cm size.ANC examination showed uterus of 18 wks size, FHS 140/min, regular. Patient underwent FNAC and biopsy from the mass which was suggestive of malignant Phyllodes tumor. Patient was prepared for mastectomy and along with surgical team right mastectomy with right axillary lymph node dissection was done. Post-operative period was uneventful. Histopathological examination showed increased cellularity and nuclear atypia suggestive of malignant phyllodes tumour and lymph nodes were negative. We concluded that accurate preoperative pathological diagnosis is very important for management of phyllodes tumor, and allows correct surgical planning and avoidance of reoperation.
Downloads
Download data is not yet available.
References
1. Murat ÖzgürKılıç, Serdar GökayTerzioğlu, Betül Bozkurt, and GülDağlar. Phyllodes Tumor of the Breast: Analysis of 48 Patients. J Breast Health2016 Oct; 12(4): 158–164. doi: 10.5152/tjbh.2016.3100.[pubmed]

2. Kumar T, Patel MD, Bhargavan R, Kumar P, Patel MH, Kothari K, et al. Largest Phyllodes Tumor- Case Report and Brief Review Article. Indian J Surg Oncol. 2011 Jun; 2(2): 141–144. Published online 2011 Jul 15. doi: 10.1007/s13193-011-0077-3.

3. Moffat CJ, Pinder SE, Dixon AR, Elston CW, Blamey RW, Ellis IO. Phyllodestumour of the breast: a clinicopathological review of the thirty-two cases. Histopathology. September 1995;27(3):205–218. doi: 10.1111/j.1365-2559.1995.tb00212.x.[pubmed]

4. Rowell MD, Perry RR, Jeng-Gwang H, Barranco SC. Phyllodes tumors. Am J Surg.March 1993;165(3)376–379. doi: 10.1016/S0002-9610(05)80849-9.

5. Ye John Shangming Seven Lakes High School, Katy, TX. Statistical analysis on the behavior and recurrence of breast phyllodes tumors. J Clin Oncol. 2016;34(suppl 3)

6. Adamietz B. Differentiation Between Phyllodes Tumor and Fibroadenoma Using Real-Time Elastography. Ultraschall Med. 2011;32(Suppl 2):E75–9. doi: 10.1055/s-0031-1282024.

7. Abe M, Miyata S, Nishimura S, et al. Malignant transformation of breast fibroadenoma to malignant phyllodes tumor: long-term outcome of 36 malignant phyllodes tumors. Breast Cancer. 2011 Oct;18(4):268-72. doi: 10.1007/s12282-009-0185-x.[pubmed]

8. Cheng S., Chang Y. Phyllodes tumor of the breast: the challenge persists. World J. Surg. August 2006;30(8):1414-21. DOI:10.1007/s00268-005-0786-2

9. Macdonald OK, Lee CM, Tward JD, et al. Malignant phyllodes tumor of the female breast: association of primary therapy with cause-specific survival from the Surveillance, Epidemiology, and End Results (SEER) program. Cancer. 2006 Nov 1;107(9):2127-33.[pubmed]

10. Belkacémi Y, Bousquet G, Marsiglia H, et al. Phyllodes tumor of the breast. Int J Radiat Oncol Biol Phys. 2008 Feb 1;70(2):492-500. Epub 2007 Oct 10.[pubmed]

11. Turalba CI, el-Mahdi AM, Ladaga L. Fatal metastatic cystosarcoma phyllodes in an adolescent female: case report and review of treatment approaches. J Surg Oncol. 1986 Nov;33(3):176-81.[pubmed]

12. Suzuki-Uematsu S, Shiraishi K, Ito T, Adachi N, et al. Malignant phyllodes tumor composed almost exclusively of a fibrosarcomatous component: a case report and review of malignant phyllodes tumors with metastases. Breast Cancer. 2010 Jul;17(3):218-24. doi: 10.1007/s12282-009-0099-7. Epub 2009 Apr 7.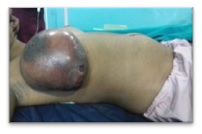 CITATION
DOI: 10.17511/joog.2019.i01.06
How to Cite
Patil, P., Rajpal, T., Pandya, B., & Brahmachari, S. (2019). Phyllodes tumor in pregnancy: A Case Report. Obs Gyne Review: Journal of Obstetric and Gynecology, 5(1), 30-33. https://doi.org/10.17511/joog.2019.i01.06
Copyright (c) 2019 Author (s). Published by Siddharth Health Research and Social Welfare Society
This work is licensed under a Creative Commons Attribution 4.0 International License.