Maternal mortality at a tertiary care teaching hospital of India: a retrospective study
Dr. Debraj Basu

Assistant Professor, Department of Gynaecology and Obstetrics, NRS Medical College, Kolkata, West Bengal, India

Dr. Kamal M.A.

Junior Resident, Department of Gynaecology and Obstetrics, NRS Medical College, Kolkata, West Bengal, India

Dr. Chaudhury P.

Associate Professor, Department of Gynaecology and Obstetrics, NRS Medical College, Kolkata, West Bengal, India
Keywords:
Maternal mortality, Eclampsia, Maternal death
Abstract
Introduction:Pregnancy, carries risk of maternal mortality due to various complications that may arise during pregnancy, labour and thereafter.
Objectives: To assess the causes of maternal death over a period of three years at a tertiary care teaching hospital at Kolkata, India.
Methods: A retrospective hospital based study of maternal deaths over a period of 3 years from January 2015 to December 2017. The information regarding demographic profile and reproductive parameters were collected and results were analyzed.
Results: Over the study period, there were 25,498 live births, and 81 maternal deaths, giving MMR of 317/1,00,000 live births. Pre-eclampsia/eclampsia was the leading direct cause while liver disease was leading indirect cause.
Conclusions: Maternal deaths are preventable by early identification of high risk pregnancies, standard treatment and their timely referral to higher centre.
Downloads
Download data is not yet available.
References
1.World Health Organization. Health statistics and information systems, 2014. Available at: http://www.who.int/healthinfo/statistics/indmaternalmortality/en/. Accessed 5 January 2018

2. Govt. of India (1962) Report of the Health survey and Planning Committee, Vol 1. Govt. of India, Ministry of health and Family Welfare (1984) Annual report 1983-84.

3. Pal A, Prasantha R, Samir H, Mondal TK. Review of changing trends in maternal mortality in a rural medical college of West Bengal. J ObstetGynaecol India. 2005;55(6):521-4.

4. Berg C. Strategies to prevent pregnancy related deaths: from identification and review to actions, centre of disease control and prevention,2001http//www.cdc.govt/reproductionhealth/02_pub_elect.htm).[pubmed]

5. Sengupta A and Gode AG. The study of maternal mortality and morbidity in a North Indian Hospital, A 9 years Review. J ObstetGynaecol India. 1986:394-400.

6. Bhargava H. Maternal Mortality - A survey of 7 years 1970 to 1976. J. Obstetric Gynaecol India. 1978; 28:48-51.

7. Kaur D, Kaur A. A retrospective study of maternal mortality in government medical college. Journal of Obstetrics, Gynaecology and family Welfare. 1999; 5: 18-22.

8. Taneja PV. Maternal Mortality in Madhya Pradesh. J. Obstet Gynaecol India 2000; 50: 59-61.

9. Dogra P, Gupta KB. A study of maternal mortality at a tertiary institute. Obs. and Gynae. Today. 2009; 115: 58-60.

10. Thomas B., Mhaskar A., Review of maternal mortality at tertiary care hospital of India over ten years, International Journal of Gynecology and Obstetrics India. 2006;9,5:19-21.

11. Purandare N, Singh A, Upadhyae S, Saraogi RM. Maternal Mortality at a referral centre: a five year study. J ObstetGynaecol India. 2007; 57: 248-250.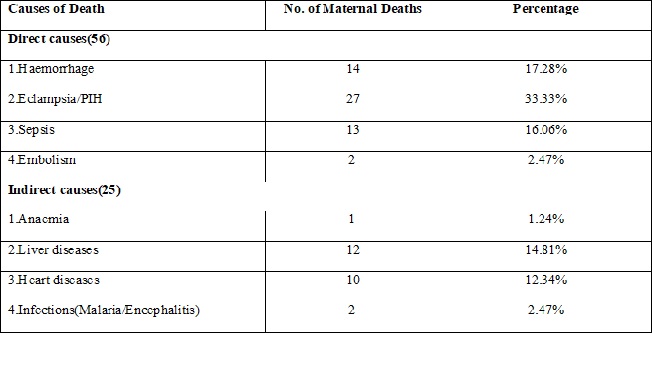 CITATION
DOI: 10.17511/joog.2019.i01.11
How to Cite
Basu, D., M.A., K., & P., C. (2019). Maternal mortality at a tertiary care teaching hospital of India: a retrospective study. Obs Gyne Review: Journal of Obstetric and Gynecology, 5(1), 59-63. https://doi.org/10.17511/joog.2019.i01.11
Copyright (c) 2019 Author (s). Published by Siddharth Health Research and Social Welfare Society
This work is licensed under a Creative Commons Attribution 4.0 International License.