Pregnancy outcome following previous history of spontaneous abortion
Dr. Nehal N.

Department of Obstetrics and Gynaecology, Dr. D.Y. Patil Medical College, Kolhapur, Maharashtra, India

Dr. Sawant V

Department of Obstetrics and Gynaecology, Dr. D.Y. Patil Medical College, Kolhapur, Maharashtra, India
Keywords:
Spontaneous abortion, Pregnancy complication, Pregnancy outcome, Mode of delivery
Abstract
Introduction: Pregnancy period is crucial for the health of the mother and baby. Spontaneous abortion is the most common adverse pregnancy outcome. Spontaneous pregnancy loss is a surprisingly common occurrence with approximately 15% of all clinically recognized pregnancies resulting in pregnancy failure. Spontaneous pregnancy loss can be physically and emotionally taxing for couples, especially when faced with recurrent losses.
Objective: To determine pregnancy outcome following previous spontaneous abortion and to evaluate any complication associated with previous abortion as compare to previous normal delivery.
Method: A prospective and observationalstudy was done on 100 patient that include 50 patient of control group who have history of previous normal delivery and 50 patients in study group who have history of previous abortion history. All the antenatal, postnatal complications and mode of delivery were noted and compared between these two groups.
Result: Shows that Pregnancy complications including threatened miscarriage, premature rupture of membranes (PROM), preterm delivery, intra uterine growth restriction (IUGR) are more commonly associated with pregnancy following history of previous abortion. Rate of caesarean section was significantly increased in women with previous spontaneous abortion and give significant p value 0.000008; Statistical analysis was carried out using Statistical Package for Social Scientists (SPSS).
Conclusion: Women with a history of previous spontaneous abortion are at an increased risk of complications in the next pregnancy. So careful surveillance should be provided to every women and not to be restricted only to females with history of recurrent pregnancy loss.
Downloads
Download data is not yet available.
References
. Cunningham FG. Abortion. Williams Obstetrics 2014 (24)18: 350-365.

2. Rai R, Regan L. Recurrent miscarriage. Lancet 2006; 368: 601–611.[pubmed]

3. Kline J and Stein Z (1984). Spontaneous Abortion. Perinatal Epidemiology. M. B. Bracken. New York, Oxford University Press: 23-51.

4. Black M, Shetty A, Bhattacharya S. Obstetric outcomes subsequent to intrauterine death in the first pregnancy. BJOG: An International Journal of Obstetrics &Gynaecology. 2008 Jan 1;115(2):269-74.[pubmed]

5. Bhattacharya S, Townend J, Shetty A, Campbell D. Does miscarriage in an initial pregnancy lead to adverse obstetric and perinatal outcomes in the next continuing pregnancy?. BJOG: An International Journal of Obstetrics &Gynaecology. 2008 Dec 1;115(13):1623-9.[pubmed]

6. Goldhaber MK, Fireman BH. The fetal life table revisited: spontaneous abortion rates in three Kaiser Permanente cohorts. Epidemiology. 1991 Jan;2(1):33-9. PubMed PMID: 2021664.[pubmed]

7. Lykke JA, Paidas MJ, Langh off-Roos J. Recurring complications in second pregnancy. Obstetrics & Gynecology. 2009 Jun 1;113(6):1217-24.[pubmed]

8. Melve KK, Skjaerven R, Rasmussen S, Irgens LM. Recurrence of stillbirth in sibships: population-based cohort study. American journal of epidemiology. 2010 Sep 15;172(10):1123-30.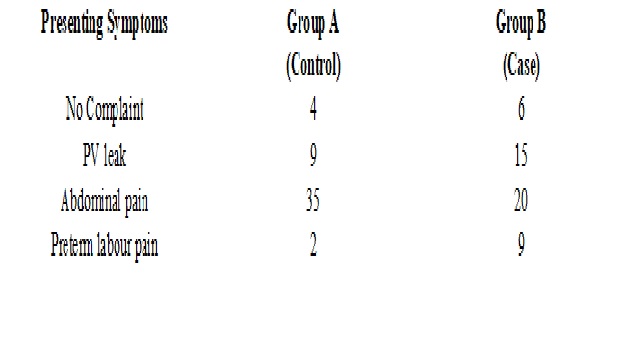 CITATION
DOI: 10.17511/joog.2019.i01.10
How to Cite
N., N., & V, S. (2019). Pregnancy outcome following previous history of spontaneous abortion. Obs Gyne Review: Journal of Obstetric and Gynecology, 5(1), 53-58. https://doi.org/10.17511/joog.2019.i01.10
Copyright (c) 2019 Author (s). Published by Siddharth Health Research and Social Welfare Society
This work is licensed under a Creative Commons Attribution 4.0 International License.