Anemia prevalence & effect on feto-placental axis with treatment with iron, folic acid & protein powder
Dr. Nidhi Nagar

Assistant Professor, Department of Obstetrics and Gynaecology, R.K.D.F. Medical College & Hospital, Bhopal, India

Dr. Mita Mazumdar

Associate Professor, Department of Obstetrics and Gynaecology, R.K.D.F. Medical College & Hospital, Bhopal, India
Keywords:
Hypoproteinamia, Folate, Feto-palcentalaxis, Anthelminthic therapy
Abstract
Aim: To find out the specific nutritional deficiency in the pregnant anaemic mothers and to see the improvement in birth weight and placental weight with haematinic, folate and antihelminthics.
Materials and Methods: Total 111 patients were studied at 24±4 weeks of gestation with a view to know etio-pathogenesis of anaemia in pregnancy by serum iron, folate and protein studies. Patients with Hb less than 8.5 g% were given oral haematinics and protein and followed up to the term. Their maternal cord blood and placentae were collected at the time of delivery to see the effect of therapy on foeto-placental axis.
Results: Out of 88 anaemic mothers 85 (96.6%) had either serum iron or folate deficiency or both. 19.3% patients had pure iron deficiency.Incidence ofpure folate deficiency was37.5% and 39.8% combined iron and folate deficiency. Control group with haemoglobin ≥11.0 g% had significant number of women with folate, iron, or deficiency of both. We have observed significant rise in placental weight & birth weight of newborn after hematinic & protein therapy.
Conclusion: Serum iron, and folate studies should be done to detect early deficiency ofironand folate as haemoglobin is not a true indicator of early deficiency. Correction of anaemia with haematinics and proteins provides a reasonable good indicators of their deficiency in pregnancy. The severe anaemia was associated with low proteins and albumin indicating that severe anaemia often coexists with hypoproteinamia.
Downloads
Download data is not yet available.
References
1. Agarwal KN, Agarwal DK, Sharma A, Sharma K. Prevalence of anaemia in pregnant & lactating women in India. Indian journal of medical research. 2006 Aug 1;124 (2):173.[pubmed]

2. Kaur IP, Kaur S. A comparison of nutritional profile and prevalence of anemia among rural girls and boys. Journal of Exercise Science and Physiotherapy. 2011 Jun;7 (1):11.

3. Pathak P, Singh P, Kapil U, Raghuvanshi RS. Prevalence of iron, vitamin A, and iodine deficiencies amongst adolescent pregnant mothers. The Indian Journal of Pediatrics. 2003 Apr 1;70 (4):299-301.

4. Pathak P, Kapil U, Kapoor SK, Saxena R, Kumar A, Gupta N, Dwivedi SN, Singh R, Singh P. Prevalence of multiple micronutrient deficiencies amongst pregnant women in a rural area of Haryana. The Indian Journal of Pediatrics. 2004 Nov 1;71(11):1007-14.[pubmed]

5. Myatt L. Placental adaptive responses and fetal programming. The Journal of physiology. 2006 Apr 1;572(1):25-30.[pubmed]

6. Goonewardene M, Shehata M, Hamad A. Anaemia in pregnancy. Best practice & research Clinical obstetrics & gynaecology. 2012 Feb 29; 26(1):3-24.[pubmed]

7. Carriaga MT, Skikne BS, Finley B, Cutler B, Cook JD. Serum transferrin receptor for the detection of iron deficiency in pregnancy. The American journal of clinical nutrition. 1991 Dec 1;54(6):1077-81.[pubmed]

8. Black RE. Micronutrients in pregnancy. British Journal of Nutrition. 2001 May 1;85(S2):S193-7.[pubmed]

9. Breymann C. Iron deficiency and anaemia in pregnancy: modern aspects of diagnosis and therapy. European Journal of Obstetrics & Gynecology and Reproductive Biology. 2005 Dec 1;123:S3-13.[pubmed]

10. Allen LH. Anemia and iron deficiency: effects on pregnancy outcome. The American journal of clinical nutrition. 2000 May 1;71(5):1280s-4s.[pubmed]

11. Viveki RG, Halappanavar AB, Viveki PR, Halki SB, Maled VS, Deshpande PS. Prevalence of anaemia and its epidemiological determinants in pregnant women. Al Ameen J Med Sci. 2012;5(3):216-3.

12. Rohilla M, Raveendran A, Dhaliwal LK, Chopra S. Severe anaemia in pregnancy: a tertiary hospital experience from northern India. Journal of Obstetrics and Gynaecology. 2010 Oct 1;30(7):694-6.[pubmed]

13. Kalaivani K. Prevalence & consequences of anaemia in pregnancy. Indian J Med Res. 2009 Nov 1;130(5):627-33.[pubmed]

14. Sferruzzi-Perri AN, Vaughan OR, Forhead AJ, Fowden AL. Hormonal and nutritional drivers of intrauterine growth. Current Opinion in Clinical Nutrition & Metabolic Care. 2013 May 1;16(3):298-309.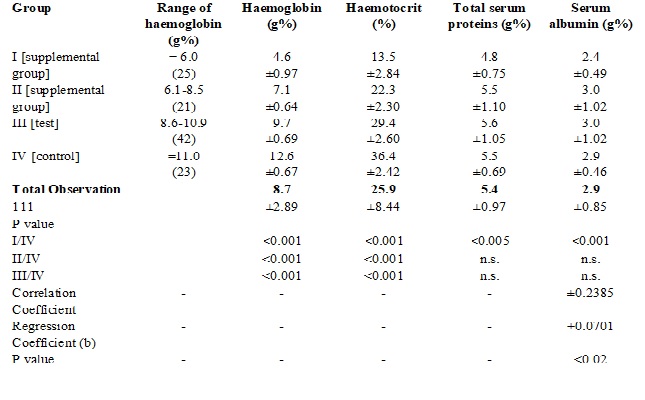 CITATION
DOI: 10.17511/joog.2019.i01.09
How to Cite
Nagar, N., & Mazumdar, M. (2019). Anemia prevalence & effect on feto-placental axis with treatment with iron, folic acid & protein powder. Obs Gyne Review: Journal of Obstetric and Gynecology, 5(1), 45-52. https://doi.org/10.17511/joog.2019.i01.09
Copyright (c) 2019 Author (s). Published by Siddharth Health Research and Social Welfare Society
This work is licensed under a Creative Commons Attribution 4.0 International License.