Maternal and foetal outcome in patients referred to tertiary hospital
Dr. Nidhi Nagar

Assistant Professor, Department of Obstetrics and Gynaecology, R.K.D.F. Medical College & Hospital, Bhopal, India

Dr. Prianka Gupta

Consultant/ Director Vedica Women and Fertility Clinic, Consultant Inamdar Hospital, Pune, India
Keywords:
Emergency, Referral, Maternal outcome, Neonatal mortality
Abstract
Objective: To know the incidence of referred patient to Sultaniazanana hospital. To evaluate maternal and foetal outcome in referred patients.To identify lacunae in appropriateness and timeliness of referral and to provide universal referral proforma for all patients referred from various health care facilities.
Methods: The present study was done in Sultaniazanana hospital, Department of Obstetric& Gynecology Gandhi Medical College, Bhopal, to study the referral from within Bhopal with respect to age, parity, place of referral, time of transport used, causes of referral, maternal & perinatal outcome & finally maternal deaths & their causes.
Results: Maximum patients are primigravida and of 20-30 years of age.Majority of patients used private vehicle & only few have been provided with hospital ambulance. Most patients reached Sultaniazanana hospital within 2 hours, which is adequate for management of complications unless the patients is referred timely from the referring site. About 22.11% of patients are referred with no high risk factors & 83.7% of patients are referred during emergency hours.
Conclusion: Early identification, initiation of early treatment and timely referrals are the crucial components for success of any maternal health intervention.Minimizing the causes of delay to emergency obstetric care significantly decrease maternal and neonatal morbidity and mortality.
Downloads
Download data is not yet available.
References
1. World Health Organization. Making pregnancy safer: the critical role of the skilled attendant: a joint statement by WHO, ICM and FIGO.

2. World Health Organization. Strengthening midwifery within safe motherhood: report of a collaborative ICM/WHO/UNICEF pre-Congress workshop, Oslo, Norway, 23-26 May 1996. Geneva: World Health Organization; 1997.

3. O'Herlihy C. Reviewing maternal deaths to make motherhood safer: 2006–2008. BJOG: An International Journal of Obstetrics &Gynaecology. 2011 Oct;118(11):1403-4.[pubmed]

4. World Health Organization. The World health report: 2005: make every mother and child count.[pubmed]

5. Tadesse Kitilla et al. Reason for referrals and time spent from referring sites to arrival at TikurAnbessa Hospital in emergency obstetrics prospective study. Ethiop .J. Health Dev ,2001;15(1):17-23

6. Orji EO, Ogunlola IO, Onwudiegwu U. Brought-in maternal deaths in south-west Nigeria. J ObstetGynaecol. 2002 Jul;22(4):385-8. DOI:10.1080/01443610220141326.[pubmed]

7. Wagle S, Shah N. Government Funded Health Insurance Scheme in Maharashtra: Study of Rajiv Gandhi Jeevan dayeeAarogya Yojana. CEHAT, Mumbai, http://www. cehat. org/uploads/files/RGJAY% 20Report. pdf. 2017.

8. de Bernis L, Sherratt DR, AbouZahr C, Van Lerberghe W. Skilled attendants for pregnancy, childbirth and postnatal care. British medical bulletin. 2003 Dec 1;67(1):39-57.

9. Rabia S, Tabbasum R, Perveen F, Ali A. Pattern and obstetric risk factors of severe acute maternal morbidity (SAMM) and maternal death in tertiary care hospital. Karachi Medical Channel. 2011 Jan 1;17(1).

10. Haider G, Zehra N, Munir AA, Haider A. Frequency and indications of cesarean section in a tertiary care hospital. Pak J Med Sci. 2009 Oct 1;25(5):791-6.

11. Turgut A, Ozler A, SiddikEvsen M, et al. Uterine rupture revisited: Predisposing factors, clinical features, management and outcomes from a tertiary care center in Turkey. Pak J Med Sci. 2013 May;29(3):753-7.[pubmed]

12. Akbar A, Laksana MA, Dachlan EG, Prasetyo B. OS017. Maternal death risk factor score based on hospital reference pattern and maternal condition of eclamptic woman in Soetomo Hospital, Surabaya, Indonesia. Pregnancy Hypertension: An International Journal of Women's Cardiovascular Health. 2012 Jul 1;2(3):183.

13. Sunita SP, Nacharaju M, Kaul R, Suchetha D. Maternal and fetal outcome in booked and unbooked patients undergoing emergency LSCS. Journal of Evolution of Medical and Dental Sciences. 2015 May 25;4(42):7402-9.

14. Indra N. Study of maternal and perinatal outcome in obstructed labour (Doctoral dissertation).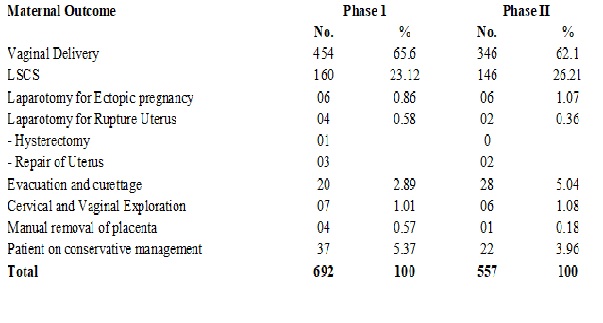 CITATION
DOI: 10.17511/joog.2019.i01.08
How to Cite
Nagar, N., & Gupta, P. (2019). Maternal and foetal outcome in patients referred to tertiary hospital. Obs Gyne Review: Journal of Obstetric and Gynecology, 5(1), 37-44. https://doi.org/10.17511/joog.2019.i01.08
Copyright (c) 2019 Author (s). Published by Siddharth Health Research and Social Welfare Society
This work is licensed under a Creative Commons Attribution 4.0 International License.