Comparative study of oral ormeloxifene and levonorgestrel IUCD in management of dysfunctional uterine bleeding
Dr. B.S. Dhananjaya

Professor and Head, Department of Obstetrics and Gynecology, Sri Siddhartha Medical College and Research Center, Tumakuru, Karnataka, India

Dr. B. Thanmaye

Post Graduate, Department of Obstetrics and Gynecology, Sri Siddhartha Medical College and Research Center, Tumakuru, Karnataka, India

Dr. K. Omkara Murthy

Professor, Department of Obstetrics and Gynecology, Sri Siddhartha Medical College and Research Center, Tumakuru, Karnataka, India
Keywords:
Dysfunctional uterine bleeding, Ormeloxifene, levonorgestrel IUCD, PBAC
Abstract
Introduction: Dysfunctional uterine bleeding constitutes a considerable problem for many women causing discomfort and decreased quality of life. About 10-15% of women experience episodes of DUB at sometime during the reproductive years of their lives. Annually 5-19% of women seek medical care. It accounts for more than 25% of all hysterectomies. A wide range of treatment modalities are available.
Objectives: To study efficacy of oral ormeloxifene and levonorgestrel IUCD in terms of blood loss, endometrial thickness, hemoglobin concentration and to evaluate side effects in DUB.
Methods: 80 women presenting with dysfunctional uterine bleeding were allocated to 2 equal groups, group1: received 60mg oral ormeloxifene twice a week for 12 weeks and once a week for next 12weeks. Group2: received levonorgestrel IUCD. The primary outcomes were reduction in menstrual blood loss (measured by fall in PBAC score), rise in hemoglobin levels, decrease in endometrial thickness. The follow up was done at 3rdand 6thmonth.
Results: This study shows significant reduction in PBAC scores with use of ormeloxifene (P=<0.001) and also with Levonorgestrel IUCD (P=<0.001), hence reduction in blood loss. Significant increase in hemoglobin concentration with ormeloxifene (P=<0.001) and levonorgestrel IUCD (P=0.002) and decrease in endometrial thickness with ormeloxifene (P=<0.001) and levonorgestrel IUCD (P=<0.001). No statistical significant between the two groups.
Conclusion: Both ormeloxifene and levonorgestrel IUCD are equally efficacious and safe. Ormeloxifene is preferred for treatment of DUB as it is easy to administer and cheap compared to levonorgestrel IUCD which is costly and with few side effects like spotting, which makes patient apprehensive.
Downloads
Download data is not yet available.
References
1. Debasmita M, Sumit P, Sima S, Abhijit H, Saroj M, Tapan M, Comparitive study of low dose oral contraceptive pill and ormeloxifene in the treatment of dysfunctional uterine bleeding. International Journal of Health & Allied Sciences. 2014 Oct-Dec;3(4):225-231.

2. Tariq N, Ayub R, Jaffery T, et al. Efficacy of levonorgestrel intrauterine system (LNG-IUS) for abnormal uterine bleeding and contraception. J Coll Physicians Surg Pak. 2011 Apr;21(4):210-3. doi: 04.2011/JCPSP.210213.[pubmed]

3. Masand D, Gupta S, Patel J, To Observe Effect of Ormeloxifene in Medical Management of Dysfunctional Uterine Bleeding, J of Evolution of Med and Dent.2015 Jan 12:Vol.4(4):587-597.

4. Bs D, Nanda SK. The role of sevista in the management of dysfunctional uterine bleeding. J Clin Diagn Res. 2013 Jan;7(1):132-4. doi: 10.7860/JCDR/2012/4794.2687. Epub 2012 Sep 10.[pubmed]

5. Neha Agarwal, Saroj Singh, Shikha Singh, Mohita Agarwal, Pallavi Manocha. Comparative evaluation of the efficacy and safety of ormeloxifene and norethisterone in dysfunctional uterine bleeding. Int J Reprod Contracept ObstetGynecol 2013 Jun; 2(2):194-198.

6. Shalini Vasudeva, Gunjan Malhotra, SK Gulati, YS Chandel. Mirena and nuvaring in management of dysfunctional uterine bleeding. International Journal of Contemporary Medical Research 2018;5(4):D5-D9.

7. Taru G, Nupur G, Sangeeta G, Pushpa B, Jyoti J, Sushma K. Levonorgestrel Intrauterine System (LNGIUS) in Menorrhagia: A Follow- Up Study, Open Journal of Obstetrics and Gynecology, 2014;4,190-196. http://dx.doi.org/10.4236/ojog.2014.44032.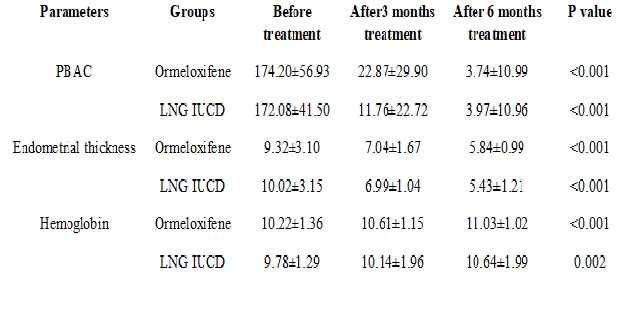 CITATION
DOI: 10.17511/joog.2019.i01.03
How to Cite
Dhananjaya, B., Thanmaye, B., & Omkara Murthy, K. (2019). Comparative study of oral ormeloxifene and levonorgestrel IUCD in management of dysfunctional uterine bleeding. Obs Gyne Review: Journal of Obstetric and Gynecology, 5(1), 13-18. https://doi.org/10.17511/joog.2019.i01.03
Copyright (c) 2019 Author (s). Published by Siddharth Health Research and Social Welfare Society
This work is licensed under a Creative Commons Attribution 4.0 International License.