The ambit of congenital malformations in the Kachchh district- a hospital-based study at a tertiary care center
Dr. Dhwani Mehta

Third Year Resident, Department of Obstetrics and Gynecology, Gujarat Adani Institute of Medical Science, Bhuj, Kutch, Gujarat, India

Dr. Charmi Pawani

Assistant Professor, Department of Obstetrics and Gynecology, Gujarat Adani Institute of Medical Science, Bhuj, Kutch, Gujarat, India

Dr. Snehal B Kukadiya

Second Year Resident, Department of Obstetrics and Gynecology, Gujarat Adani Institute of Medical Science, Bhuj, Kutch, Gujarat, India

Dr. Nimish Pandya

Profesoor and Head, Department of Obstetrics and Gynecology, Gujarat Adani Institute of Medical Science, Bhuj, Kutch, Gujarat, India
Keywords:
Birth defect, Congenital anomalies, Hydrocephalus, Pregnancy
Abstract
Background and Aim: Quantifying birth defects in a population is felt as a need as it helps inappropriate allocation of the health budget to tackle and reduce perinatal, neonatal, and infant mortality rates. Hence a study on congenital anomalies was undertaken in the region of Kachchh district.
Material and Methods: Present cross-sectional study was performed on 10 patients diagnosed with having congenital malformed fetuses at tertiary care center- G.K. General Hospital, Bhuj, Kachchh district, Gujarat, India over three months – January, February, March 2019.
Results: Mean age of the study participants were 22.3 years, most (70%) of the study participants were primigravida. Hydrocephalus was the most common birth defect among study participants. Eighty percentages (80%) of study participants had gross anomalies. Sixty percentages (60%) of participants had the outcome of termination.
Conclusion: Congenital anomalies were in babies to mothers between 20-30 years of age. Once an anomaly is detected, various management options are to be discussed with the patients in consultation with a neonatologist, pediatric surgeon, and neurosurgeon when necessary.
Downloads
Download data is not yet available.
References
Patel ZM, Adhia RA. Birth defects surveillance. Indian J Pediatrics 2005;72(6):489-491. doi: 10.1007/BF02724426.
Taksande A, Vilhekar K, Chaturvedi P, Jain M. Congenital malformations at birth in Central India: A rural medical college hospital-based data. Indian J Human Genet. 2010;16(3):159-163. doi: 10.4103/0971-6866.73412.
Bhat BV, Ravikumar M. Perinatal mortality in india-need for introspection. Indian J Maternal Childhealth.1996;7:31-33.
CDC. Key findings: Updated National birth prevalence estimates for selected birth defects in the United States, 2004-2006. Available at https://www.cdc.gov/ncbddd/birthdefects/features/birthdefects-keyfindings.html.
Sharma R. Birth defects in India: Hidden truth, need for urgent attention. Indian J Hum Genet. 2013:19(2):125-129. doi: 10.4103/0971-6866.116101.
Sadler T, Langman J. Birth defects and prenatal diagnosis. In: Leland J, editor. Langman's Medical Embryology. 12th ed. Philadelphia: Wolters Kluwer Health/Lippincott Williams and Wilkins; 2012:117-129.
Singh A, Gupta RK. Pattern of Congenital Anomalies in Newborn: A Hospital Based Prospective Study. JK Science. 2009;11(1):11-15.
Swain S, Agarwal S, Bhatia bd. Congenital malformations at birth. Indian Pediatric 1994;31(10):1187-1191.
Kulshrestha R, Nath M, Upadhyaya P. Congenital malformations in live born infants in a rural community. Indian Pediatr. 1983;20(1):45-49.
Chaturvedi P, Banerjee KS. Spectrum of congenital malformations in the newborns from rural Maharashtra. Indian J Pediat. 1989;56(4):501-507. doi: 10.1007/BF02722424.
Grover N. Congenital malformations in Shimla. The Indian J Pediat. 2000;67(4):249-251. doi: 10.1007/BF02758158.
Pandya M, Thakkar J. Study of gross congenital malformations in newborn. J Evol Med Dent Sci 2013;2:4988-4993.
Kulkarni MI. Prenatal diagnosis of genetic disorders. Indian Pediat 1995,32(11):1229-38.
Kalaiselvan G. a study on incidence of congenital anomalies in rural population of cuddaloree district in Tamil Nadu. Rural Med. 2012;40-43.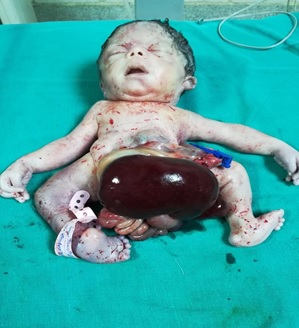 CITATION
DOI: 10.17511/joog.2020.i06.02
How to Cite
Dr. Dhwani Mehta, Dr. Charmi Pawani, Dr. Snehal B Kukadiya, & Dr. Nimish Pandya. (2020). The ambit of congenital malformations in the Kachchh district- a hospital-based study at a tertiary care center. Obs Gyne Review: Journal of Obstetric and Gynecology, 6(6), 114-119. https://doi.org/10.17511/joog.2020.i06.02
Copyright (c) 2021 Author (s). Published by Siddharth Health Research and Social Welfare Society
This work is licensed under a Creative Commons Attribution 4.0 International License.