Ovarian ectopic pregnancy: a case report with review of literature
Dr. Pragati Meena

Department of Obstetrics & Gynecology, NIMS Medical College and Hospital, Shobha Nagar, Delhi Highway Jaipur, Rajasthan, India

Dr. Poonam Bhojwani

Department of Obstetrics & Gynecology, NIMS Medical College and Hospital, Shobha Nagar, Delhi Highway Jaipur, Rajasthan, India

Dr. Gajendra Singh Verma

Department of Obstetrics & Gynecology, NIMS Medical College and Hospital, Shobha Nagar, Delhi Highway Jaipur, Rajasthan, India
Keywords:
Ectopic pregnancy, Laprotomy, Salpingoophorectomy, Methotrexate
Abstract
Background: Ectopic pregnancyis a major health issue in reproductive age group female.
Aim and Objective: Aim of this review article is basically to describe a case of ovarian pregnancy and to study by a review of literature, the clinical sign &symptoms, diagnostic criteria and management of particular pathlogy accordingly, promote conservative surgical management.
Conclusion: According to spigelbergcriteria,it is a diagnostic challenge to obstetrician. Diagnosis can be missed radiologically and intraopertively.
Downloads
Download data is not yet available.
References
1. Aetiology, diagnosis, and challenges in surgical management. J Obstet Gynaecol. 2012;32:472–4,2012.

2. Poonam Rana, Imran Kazmi, Rajbala Singh, Muhammad Afzal. Ectopic pregnancy: a review. Arch Gynecol Obstet. 2013; 288: 747–75,2013

3. Krik E, Bourne T . Ectopic pregnancy. Obstetgynecol Reprod Med 2011;21:207-211,2011.

4. Goyal Lajya Devi, M.D.,1Tondon Rimpy, M.D., 2 Goel Poonam, M.D.,2 and Sehgal Alka, M.D. Ovarian ectopic pregnancy: A 10 years' experience and review of literature. Iran J Reprod Med. 2014 December; 12 (12) : 825–830, Dec 2014.

5. Fritz MA, Speroff L. Clinical gynecologic endocri-nology and infertility, 8th edn. Wolters Kluwer Health/ Lippincott Williams & Wilkins, Philadelphia. 2011.

6. Hallatt JG. Primary ovarian pregnancy: a report of twenty-five cases. Am J Obstet Gynecol. 1982;143:55–60, 1982.

7. Panelli Danielle M , H. Phillips Catherine, Brady Paula C, Incidence, diagnosis and management of tubal and nontubal ectopic pregnancies: a review. Fertility Research and Practice 2015; 1:15,2015.


8. Vanitha N Sivalingam,W Colin Duncan; Emma Kirk, Lucy A Shephard, Andrew W Horne. Diagnosis and Management of Ectopic Pregnancy.J Fam Plann Reprod Health Care. 2011;37(4):231-240,2011.

9. Comstock C, Huston K, Lee W. The ultrasonographic appearance of ovarian ectopic pregnancies. Obstet Gynecol. 2005;105:42–45.2005.

10. Chang FW, Chen CH, Liu JY. Early diagnosis of ovarian pregnancy by ultrasound. Int J Gynecol Obstet. 2004; 85:186–187,2004.

11. Juan YC, Wang PH, Chen CH, Ma PC, Liu WM. Successful treatment of ovarian pregnancy with laparoscopy- assisted local injection of etoposide. FertilSteril . 2008;90:1200, 2008.

12. Mittal S, Dadhwal V, Baurasi P. Successful medical management of ovarian pregnancy. Int J Gynecol Obstet. 2003; 80:309–310,2003.

13. Buster JE, Carson SA. Ectopic pregnancy; new advances in diagnosis and treatment. Curr Opinion Obstet Gynecol. 1995; 7:168–176,1995.

14. Gabbur N, Sherer DM, Hellmann M. Do serum beta-human chorionic gonadotropin levels on day 4 following methotrexate treatment of patients with ectopic pregnancy predict successful single- dose therapy? Am J Perinatol. 2006. 23: 193–196, 2006.

15. Barnhart KT, Gosman G, Ashby R, Sammel M . The medical management of ectopic pregnancy: a meta-analysis comparing "single dose" and "multidose" regimens. Obstet Gynecol. 101:2003;778–784,2003.

16. Barnhart K, Hummel AC, Sammel MD, Menon S, Jain J, Chakhtoura N Use of "2-dose" regimen of methotrexate to treat ectopic pregnancy. Fertil Steril. 2007; 87:250–256, 2007.

17. Hossam O, Hamed A, Salah R, Ahmed A, Abdullah A Comparison of double- and single-dose methotrexate protocols for treatment of ectopic pregnancy. AlghashamInt J Gynecol Obstet.2012; 116:67–71, 139, 2012.

18. Kirk E, Condous G, Van Calster B A validation of the most commonly used protocol to predict the success of single-dose methotrexate in the treatment of ectopic pregnancy. Hum Reprod .2007;22:858–863,2007.

19. Bagga R, Suri V, Verma P, Chopra S, Kalra J. Failed Medical Management in Ovarian Pregnancy Despite Favorable Prognostic Factors-A Case Report. Med Gen Med. 2006;8:35,2006.

20. Habbu J, Read MD. Ovarian pregnancy successfully treated with methotrexate. JObstetGynaecol. 2006;26: 587–8, 2006.

21. Shapiro HI, Adler DH. Excision of an ectopic pregnancy through the laparoscope. Am J Obstet Gynecol. 1973;117:290–1.

22. Ayakannu T, Rogers J, Wordsworth S, Jayagopal N, Vine S. Conservative laparoscopic approach with systemic medical management of an ovarianectopic gestation. J ObstetGynaecol. 2007;27:449–50,2007.

23. Mittal S, Dadhwal V, Baurasi P. Successful medical management of ovarianpregnancy. Int J Gynaecol Obstet. 2003;80:309–10,2003.

24. O. Birge, M. M. Erkan, E. G. Ozbey, and D. Arslan, "Medical management of an ovarian ectopic pregnancy: a case report," Journal of Medical Case Reports. , 2015; vol. 9:1, article no. 774.,2015.

25. G. Scutiero, P. Di Gioia, A. Spada, and P. Greco, "Primary ovarian pregnancy and its management," Journal of the Society of Laparo-endoscopic Surgeons. 2012; vol. 16:3,492–494,2012.

26. Y. Koo, H. Choi, K. Im, H. Jung, and Y. Kwon, "Pregnancy outcomes after surgical treatment of ovarian pregnancy," International Journal of Gyne-cology & Obstetrics. 2011; vol. 114:, 97–100, 2011

27. Chatburn Luke, SanghaniReesha, Chatburn Luke, et al. An Alternative Treatment for the Ovarian Ectopic Pregnancy.J Womens Health Gyn.2015;Vol2:102, 2015

28. Joseph RJ, Irvine LM..Ovarian ectopic pregnancy: Odejinmi F, Rizzuto MI, Macrae R, Olowu O, Hussain M. Diagnosis and laparoscopic management of 12 consecutive cases of ovarian pregnancyand review of literature. J Minim Invasive Gynecol. 2009;16:354–9, 2009.

29. Nadarajah S, Sim LN, Lo SF. Laparoscopic management of an ovarian pregnancy. Singapore Med J. 2002; 43:95–6,2002.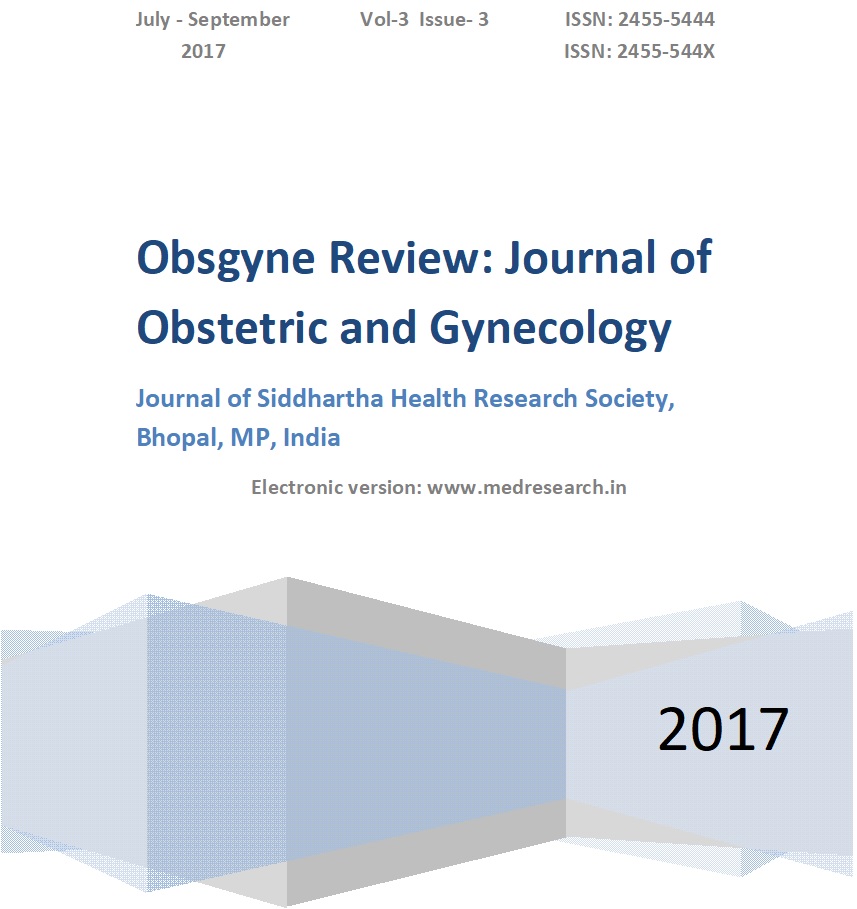 CITATION
DOI: 10.17511/joog.2017.i03.03
How to Cite
Meena, P., Bhojwani, P., & Singh Verma, G. (2017). Ovarian ectopic pregnancy: a case report with review of literature. Obs Gyne Review: Journal of Obstetric and Gynecology, 3(3), 25-32. https://doi.org/10.17511/joog.2017.i03.03
This work is licensed under a Creative Commons Attribution 4.0 International License.