Evaluation of thyroid disorders in abnormal uterine bleeding
Dr. Priyanka Sharma

Consultant, Department of Obstetrics & Gyanecology, Sitadevi Hospital, Jaipur, India

Dr. Pooja Patil

Associate Professor, Department of Obstetrics & Gynaecology, L.N. Medical College, Bhopal, India
Keywords:
Abnormal uterine bleeding, Thyroid disorders
Abstract
Introduction: Abnormal uterine bleeding (AUB) is a common clinical presentation in gynecology.
Method: 100 Patient of clinically diagnosed AUB were taken from gynecology OPD.
Result: Out of 100 women of AUB, majority were in the age group of 31-40 years (38%), 54% were multiparous and 44% presented with menorrhagia.
Conclusion: The study concludes that biochemical evaluation of thyroid function is an easy, reliable method and should be made mandatory in all cases of AUB.
Downloads
Download data is not yet available.
References
1. Hoffman B., SchorgeJ, Schaffer J, Halvorson L, Bradshaw K, Cunningham F, "Abnormal uterine bleeding" Williams Gynecology, 2ndedn, 2012:220.

2. Dutta DC, "Abnormal menstrual bleeding" Textbook of Gynaecology including contraception, 4th edn, 2005: 177.

3. Speroff L, Glass LH, Kass NG. Clinical gyneco-logical endocrinology and infertility, 6th edn. Baltimore. Lippincott Williams ac Wilkins 1999; 201-238, 575-9.

4. Rashid Latif Khan formerly known as Five Teachers Gynaecology, 3rd edn 2009:255

5. Hoffman B., Schorge J, Schaffer J, Halvorson L, Bradshaw K, Cunningham F, "Abnormal uterine bleeding". Williams Gynaecology, 2nd edn 2012:234.

6. Pilli GS, Sethi B, Dhaded AV, Mathur PR, "Dysfunctional uterine bleeding" J. obst gynae India 2001; 52(3): 87-89.

7. Jinger SK, Verma A,Dayma I, Talreja T, "To study the thyroid profile in menstrual disorder at tertiary care hospital in northern western Rajasthan,India" Int J Res Med Sci 2017 May;5 (5):2212-2214

8. Pahwa S, Gupta S, Kumar J, "Thyroid dysfunction in dysfunctional uterine bleeding" J Adv Res Bio Sci. 5 (1); 2013:78-73.

9. Deshmukh PV, Boricha BG, Pandey A, "The association of thyroid disorders with abnormal uterine bleeding" Int J Reprod Contracep Obstet Gynecol 2015; 4 (3): 701-8.

10. MarimuthuK,Loganathan M, "Influence of thyroid gland in women with abnormal uterine bleeding in reproductive age group" Int J Reprod Contracep Obstet Gynecol 2017 June;6 (6):2222-2225

11. Sampath S, Singh P, Somani BL, Arora MM, Batra HS, Harith AK, Ambade V. Study of Clinico-biochemical Spectrum of Hypothyroidism. Med J Armed Forces India. 2007 Jul; 63(3):233-6. doi: 10.1016/S0377-1237(07)80142-0. Epub 2011 Jul 21.

12. Rema V. Nair, "Evaluation of Thyroid profile in patients with abnormal uterine bleeding" Int J Health Sci Res 2015; 15(9):94-8.

13. Menon UK, Barucha KE, "Menstrual dysfunction and thyroid diseases"J.Obst Gynal India1995(4):521-26

14. Douglas L. Nilansky, Bernard Gniseman, "Early Hypothyroidism" Am J obstet and gynaecol 1990: 163 (2): 697.

15. Laxmi Singh Agarwal CG. SR Chowdhary, Mehra p., RayanaKhare, "thyroid profile in infertile women". J of obst and gynal of India 1990; 40:248.

16. Pushpa Sirichand, "Impaired thyroid function in patient with menstrual disturbances" World App Sci J 2009; 7(4):538-542.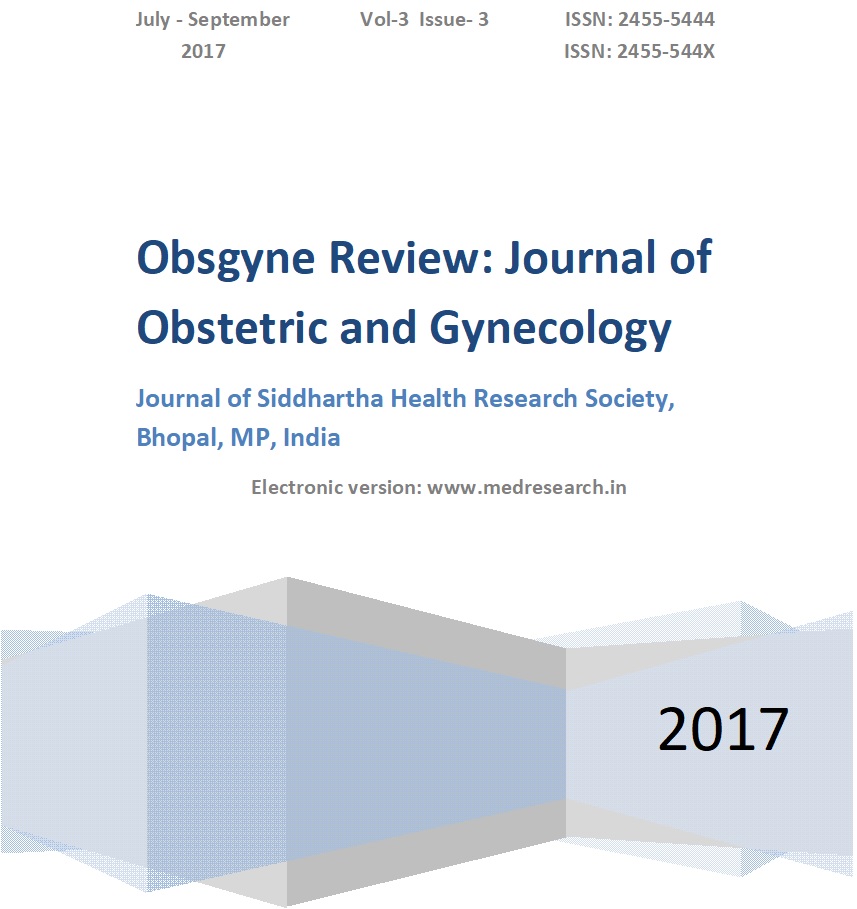 CITATION
DOI: 10.17511/joog.2017.i03.01
How to Cite
Sharma, P., & Patil, P. (2017). Evaluation of thyroid disorders in abnormal uterine bleeding. Obs Gyne Review: Journal of Obstetric and Gynecology, 3(3), 17- 20. https://doi.org/10.17511/joog.2017.i03.01
This work is licensed under a Creative Commons Attribution 4.0 International License.