Antibiograms of uropathogens in obstetric patients
Dr. Monika Jindal

Associate Professor, Department of Obstetrics and Gynaecology, Shri Shankaracharya Institute of Medical Sciences, Bhilai, Chhattisgarh, India

Dr. Shrikrishna Kumar Agrawal

Associate Professor, Department of Obstetrics and Gynaecology, Shri Shankaracharya Institute of Medical Sciences, Bhilai, Chhattisgarh, India

Dr. Anju Pungale

Junior Resident, Shri Shankaracharya Institute of Medical Sciences, Bhilai, Chhattisgarh, India
Keywords:
ESBL, Pregnancy, Urinary tract infection, Uropathogens
Abstract
Background: Urinary tract infections (UTI) are the most commonly encountered infections in obstetric patients.
Aim: The current study was undertaken to find the spectrum of micro-organisms responsible for causing UTI in obstetric patients and to find out the most appropriate antibiotic.
Materials and Methods: Consecutive patients in different stages of pregnancy with or without symptoms of UTI attending the antenatal clinic from June 2019 to November 2020 were screened for significant bacteriuria. The bacterial uropathogens isolated were then subjected to antimicrobial susceptibility testing and screened for ESBL production and methicillin resistance.
Results: During the 18-month study period, out of the 110 samples screened, a total of 66 (60%) samples of urine from pregnant females, in different stages of pregnancy were found to be positive on culture. The Enterobacteriaceae accounted for nearly 69.69% of the isolates and E. coli alone accounted for 42.42% of the urinary isolates followed by Acinetobacter 19.69%. Among the Gram-positive cocci, Enterococcus 25.75% were more frequently isolated than Staphylococcus aureus (4.54%). Significantly high resistance was noted to the beta-lactam group of antimicrobials, fluoroquinolones and cotrimoxazole, both by the Gram-negative bacilli as well as Gram-positive cocci. Resistance was quite low against the aminoglycosides and nitrofurantoin and virtually absent against imipenem.
Conclusion: The susceptibility patterns seen in our study seem to suggest that it is necessary to obtain sensitivity reports before initiation of antibiotic therapy in cases of suspected UTI.
Downloads
Download data is not yet available.
References
Connolly A, Throp JM Jr. Urinary tract infections in pregnancy. Urol Clin North Am 1999;26:779-87. doi: 10.1016/s0094-0143(05)70218-4.
Bonadio M, Meini M, Spetaleri P, Gilgi C. Current microbiological and clinical aspects if urinary tract infections. Eur Urol 2001;40:439-45. doi: 10.1159/000049813.
Hotton TM. Pathogenesis of urinary tract infections: An update. J Antimicrob Chemother 2000;46 Suppl A:1-7. PMID: 10969044
Sefton AM. The impact of resistance on the management of urinary tract infections. Int J Antimicrob Agents 2000;16: 489-91. doi: 10.1016/s0924-8579(00)00282-x.
Clinical and Laboratory Standard Institute. Performance standards for antimicrobial disk susceptibility tests. (M2-A-9). Wayne, PA: Clinical and Laboratory Standards Institute; 2006.
Clinical Laboratory Standards Institute. Performance Standards for Antimicrobial Testing: 18th informational supplement (M110 - S-18). Wayne, PA: Clinical Laboratory Standards Institute; 2008.
Clinical and Laboratory Standards Institute. Performance standards for Antimicrobial susceptibility testing; twenty first informational supplement (M100- S-21). Wayne, PA: Clinical Laboratory Standards Institute; 2011.
US Preventative Service task Force, Screening for asymptomatic bacteriuria: U.S. Preventative Service task Force reaffirmation recommendation statement. Ann Intern Med 2008;149:43-7. doi: 10.7326/0003-4819-149-1-200807010-00009.
McIsaac W, Carrol JC, Biringer A, Bernstein P, Lyons E, Low DE, et al. Screening for asymptomatic bacteriuria in pregnancy. J Obstet Gynaecol Can 2005;27:20-4. doi: 10.1016/s1701-2163(16)30167-0.
Masinde A, Gumodoka B, Kilonzo A, Mshana SE. Prevalence of urinary tract infection among pregnant women at Bugando Medical Centre, Mwanza, Tanzania. Tanzan J Health Res 2009;11:154-9. doi: 10.4314/thrb.v11i3.47704.
Dwyer PL, O'Reilly M. Current opinion in. Obstet Gynecol 2000;14:537-43. doi: 10.1097/00001703-200210000-00016.
Tugrul S, Oral O, Kumru P, Kose D, Alkan A, Yildirim G. Evaluation and importance of asymptomatic bacteriuria in pregnancy. Clin Exp Obstet Gynecol 2005;32:237-40. PMID: 16440822
Schnarr J, Smaill F. Asymptomatic bacteriuria and symptomatic urinary tract infections in pregnancy. Eur J Clin Invest 2008;38(S2):50-7. doi: 10.1111/j.1365-2362.2008.02009.x.
Okonko IO, Ijandipe LA, IIusanya AO, Donbraye- Emmanuel OB, Ejembi J, Udeze AO, et al. Incidence of urinary tract infection (UTI) among pregnant women in Ibadan, south-western Nigeria. Afr J Biotech 2009;8:6649-57.
Pais P, Khurana R, George J. Urinary tract infections: A restrospective survey of causative organisms and antibiotics prescribed in a tertiary care setting. Indian J Pharmacol 2002;34:278-80.
Rizvi M, Khan F, Shukla I, Malik A, Shaheen. Rising prevalence of antimicrobial resistance in urinary tract infections during pregnancy: Necessity for exploring newer treatment options. J Lab Physicians 2011;3:98-103.
Nicoll LE. Short term therapy for urinary tract infections: Success and failure. Int J Antimicrob Agents 2008;31:53-4. doi: 10.1016/j.ijantimicag.2007.07.040. Epub 2007 Nov 26.
Hamdan HZ, Ziad AH, Ali SK, Adam I. Epidemiology of urinary tract infections and antibiotics sensitivity among pregnant women at Khartoum north hospital. Ann Clin Microbiol Antimicrob 2011;10:2.
Taneja N, Rao P, Arora J, Dogra A. Occurrence of ESBL and Amp-C-B- lactamases and susceptibility to newer antimicrobial agents in complicated UTI. Indian J Med Res 2008;127:85-8. PMID: 18316858
Parveen SS, Reddy SV, Rao MV, Rao JR. Uropathogens and their drug susceptibility patterns among pregnant women in a teaching hospital. Ann Biol Res 2011;2:516-21.
McNulty CA. Clinical relevance of laboratory-reported antibiotic resistance in acute uncomplicated urinary tract infection in primary care. J Antimicrob Chemother 2006;58:1000-8.
Asha Pai KB, Rai R, Sanjeev H, Karnaker VK, Prasad K. Nitrofurantion: An alternative therapy for uncomplicated cystitis in the era of antimicrobial resistance. J Clin Diagn Res 2011;5;964-6.
Kashanian J, Hakimian P, Blute M Jr, Wong J, Khanna H, Wise G, et al. Nitrofurantoin: The return of an old friend in the wake of growing resistance. BJU Int 2008;102:1634-7. doi: 10.1111/j.1464-410X.2008.07809.x. Epub 2008 Jul 24.
Magee JT, Pritchard EL, Fitzgerald KA, Dunstan FD, Howard AJ. Antibiotic prescribing and antibiotic resistance in community practice: Retrospective study. Br Med J 1999;319:1239-40. doi: 10.1136/bmj.319.7219.1239.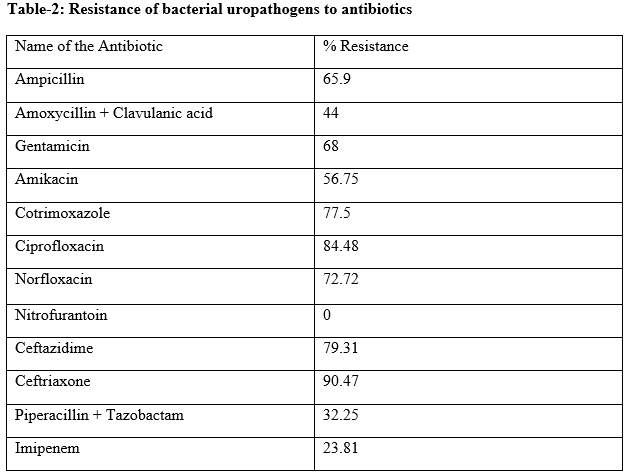 CITATION
DOI: 10.17511/joog.2021.i01.02
How to Cite
Dr. Monika Jindal, Dr. Shrikrishna Kumar Agrawal, & Dr. Anju Pungale. (2021). Antibiograms of uropathogens in obstetric patients. Obs Gyne Review: Journal of Obstetric and Gynecology, 7(1), 06-12. https://doi.org/10.17511/joog.2021.i01.02
Copyright (c) 2021 Author (s). Published by Siddharth Health Research and Social Welfare Society
This work is licensed under a Creative Commons Attribution 4.0 International License.